Mallaskosken Panimon ja Helsinki Distilling Companyn höyrytislattu humalaviina tuo markkinoille uuden viinakategorian. Mutta onko ikoninen Koskenkorva mahdollista haastaa omalla kotikentällään?
 The Spirit of Mallaskoski sai alkunsa Mallaskosken Panimon panimomestarin Jyri Ojaluomanja Helsinki Distilling Companyn tislaajamestarin Mikko Mykkäsen yhteistyönä toukokuussa 2018. Tarkoituksena oli kehittää kirkas ja sokeriton väkevä viina, jossa maistuvat humalan aromit ja joka sopii pohjalaiseen luonteeseen kuin puukko rintaan.
Vajaan vuoden kestänyt prosessi tuli päätökseen tammikuun lopulla, kun uusi viina esiteltiin ensin lehdistölle ja vähän myöhemmin Lakeuden Panimojuhlilla isommalle joukolle kuluttajia.
Ensi kokemuksen perusteella The Spirit of Mallaskoski on maailmanluokan viina, joka sopii nautittavaksi yhtä lailla kylmänä ja lämpimänä kuin myös juomasekoituksina.
Humalan haastavuus karsii tislausintoa
Tekijöidensä mukaan The Spirit of Mallaskoski on ensimmäinen Suomessa valmistettu kaupallinen humalaviina. Maailman mittakaavassakin ollaan, jos ei ihan piikkipaikalla, niin kärkijoukoissa ainakin.
Saksassa tiedetään tehdyn erilaisia oluttisleitä ja bierschnappsejajo maailman sivu, mutta varsinaiset humalatisleet ovat erittäin harvinaisia.
Mikko Mykkänen kertoo joskus nähneensä Destille Berlin -messuilla tisleitä, joihin on uutettu mausteeksi humalaa, mutta tislaamalla valmistettua humalaviinaa mies ei muista aiemmin kohdanneensa.
"Tislauspuolella humalaa on pelätty jonkin verran, koska vaarana on, että lopputulos on joko liian kirpeä tai saunavihtamainen. Siitä syystä valitsimme menetelmäksi höyryinfuusion, eli humalia ei ole keitetty pohjatisleen kanssa, vaan ne on altistettu ainoastaan alkoholihöyrylle", hän sanoo.
Tarkkana pitää olla myös humalalajikkeiden valinnassa, jotta ne toimisivat tislauksessa toivotulla tavalla. Tavoitteenahan oli viina, jossa on runsaasti humalan tuomaa aromikkuutta, mutta vain vähän tai ei ollenkaan humalakukinnolle tyypillistä katkeruutta. Eri kokeilujen jälkeen lajikkeiksi valikoituivat amerikkalaiset Amarillo, Cascade ja Mosaic.
"Koska humala on niin haastava raaka-aine, jouduimme miettimään tisleen leikkauspistettä erityisen tarkkaan", Mykkänen painottaa.
Lopullisen tuotteen alkoholiprosentiksi valikoitui lopulta neljästä eri vaihtoehdosta 38 tilavuusprosenttia eli täsmälleen sama kuin Koskenkorvalla. Sattumaako? Tuskinpa vain.
Snapsina ja juomasekoituksiin
Lanseeraustilaisuudessa saimme The Spirit of Mallaskoskea laseihimme sekä jääkaappikylmänä että huoneenlämpöisenä. Molemmat toimivat varsin hyvin.
Tuote on snapsilasissa täysin kirkas. Humala tulee esiin tuoksussa, jota sävyttävät pehmeät sitrusaromit verigreipin johdolla. Juoman lämmetessä myös aromikkuus kasvaa, luonnollisesti. Maku on miellyttävän pehmeä ja suunmyötäinen lämpötilasta riippumatta. Humalan katkeruutta ei juurikaan havaitse, eikä viina iske päin kasvoja, vaikka alkoholiprosentin huomioon ottaen niin voisi olettaa.
Juomasekoituksina tarjolla oli sour- ja mojitotyyppiset cocktailit, joiden reseptiikasta ja tarjoilusta vastasi baarimestari Markus Sillanpää.
Molemmissa sekoituksissa viina pääsi oikeuksiinsa, humalan aromit tuntuivat heti tuoksussa ja säilyivät hyvin loppuun asti.
Sillanpään mukaan humalaviinaa voi käyttää juomasekoituksissa yleisesti vodkan tai ginin asemesta. Erikseen mies mainitsi sourit, mulet ja martinit, joihin humala tuo uudenlaista särmää.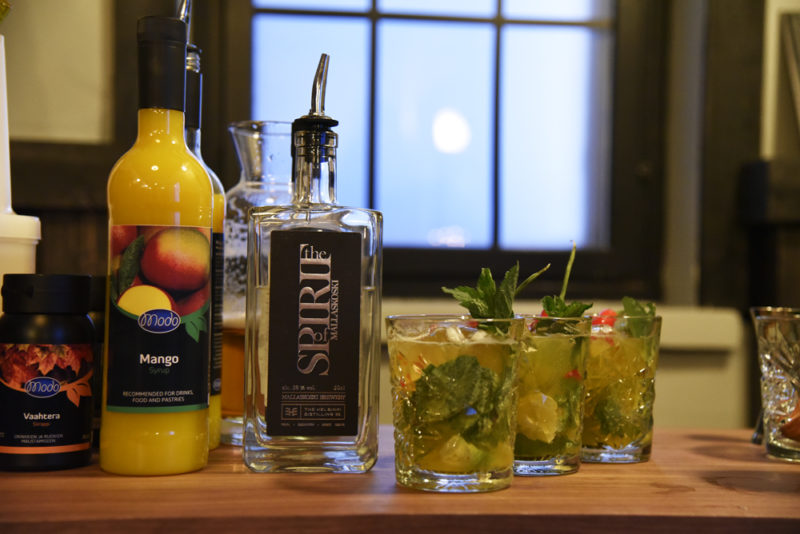 Koskenkorvaa haastamaan
Mallaskoskesta on sanottava, että pohjalainen uho on kohdillaan, kun lähdetään rinta rottingilla naapuripitäjän ikonisen Koskenkorvan Viinan tontille. Haaste on lyöty pöytään.
Tottahan kyseessä ovat täysin eri tuotteet, volyymit ja kilpailuasetelmat – mutta samoista asiakkaista taistellaan tosissaan.
Jyri Ojaluoma myöntää, että kyseessä on eräänlainen kädenojennus Koskenkorvalle. Onko käsi sitten avoin vai puristettu nyrkiksi, se on makuasia.
Joka tapauksessa vastakkainasettelu on herkullista, varsinkin Pohjanmaalla, jossa tunnetusti pelataan avoimin kortein ja ollaan ylpeitä omista juurista. Aika usein tuliset pohjalaiset ovat kuitenkin pienemmän puolella.
Nyt syttyneessä viinataistelussa on vastakkain kaksi itsevarmaa ja puhdasta viinaa, Mallaskosken Daavid ja Koskenkorvan Goljat, käsityötisle vastaan teollinen tuotanto.
Niin paljon kuin perinteistä Kossua arvostankin, olutmiehenä sydämeni kääntyy kuitenkin baaritiskillä humalan puoleen. Oma vissyni valuu lasiin mieluummin The Spirit of Mallaskosken siivittämänä, ainakin Seinäjoella.